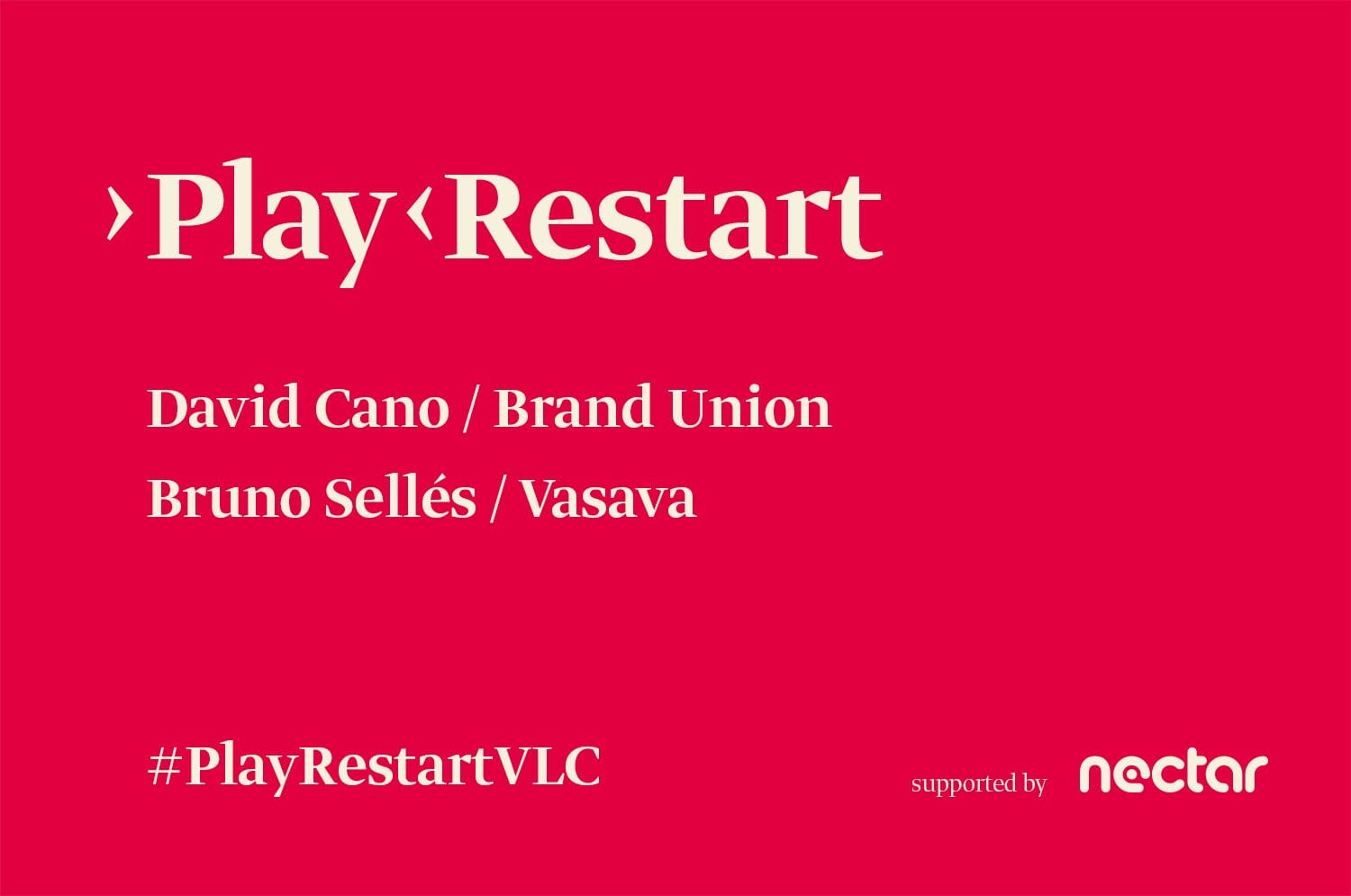 Play Restart is a monthly roundtable for design professionals who was born in Madrid in January 2014.
After a break of several months to think about new projects Play Restart was again held in Madrid with a special edition dedicated to digital design within the programming of the Brief Festival.
On November 17 Play Restart moves to Valencia to create in Las Naves a new space for reflection on the current design trends.
This edition, which has had the collaboration of Nectar Estudio as host, will consist of a debate on design, moderated by Wences Sanz that will feature Bruno Sellés, one of the founders of the study Vasava and David Cano, creative director of the branding agency The Brand Union.
More information from the Play-restart guests.
David Cano (1976) is currently creative director of the Madrid office of Brand Union, a global branding consultancy with 40 years of experience in brand building and management. With over 500 professionals and an international network of 24 offices serving the major markets. Brand Union has been part of WPP since 1986.
David has more than 20 years of experience and more than 10 years as Creative Director. He has participated in global and local projects for clients such as La Casa Encendida, Canal +, Reina Sofía National Art Center, Banco Santander, Guggenheim Museum, MoMA, IE Business School, Indra, Repsol YPF, Paramount Pictures, Prisa, Telefónica, Camper, Loewe, Women'Sectret or Biotherm, among others.
For his work he has won several Laus, D & AD awards and selected in AIGA book covers of the year. Several of his projects have been collected in on and offline publications such as Type Directors Club, Brand New, Salon, Ffffound, It's nice that or Index Book.
Prior to Brand Union, David worked as a Design Director at Base, has worked as a freelance with Erretres and Saffron and previously worked at Interbrand, as well as in different advertising agencies and graphic design studios. At the end of Fine Arts, and after a period as a designer in Barcelona and Madrid, David removed complexes completing his training with a postgraduate in the Central Saint Martins of London.
Bruno Sellés (Barcelona, ​​1976) is a graphic designer and self-taught typographer.
Since 1997 he has been the founder and creative director of the design studio Vasava, based in Barcelona. As a cross-media studio, they develop projects in a wide range of disciplines ranging from branding, custom typography, illustration, digital design and animation.
Vasava's mission is to help brands connect with their audience through ideas and design solutions, bringing together tradition and avant-garde. Some of these brands are Nike, Adobe, Diesel, Moët & Chandon, Mango, Atletico Madrid, Comme des Garçons, FC Barcelona or the Washington Post.
Bruno has designed several families of typographic fonts such as Synopsis or Matchpoint distributed by MyFonts and fonts made to measure for brands such as FCB, Atletico Madrid, Cristiano Ronaldo or Mango fashion brand.
He has participated in design conferences and schools around the world, in cities such as Seoul, New York, Los Angeles, Stockholm, Beijing and Buenos Aires.
She teaches regularly in master's degree in art direction at the Elisava and Blanquerna Universities in Barcelona.